Dr. Maurizio Damiani
Orthopaedic Surgeon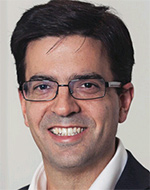 Dr. Maurizio Damiani
Dr Maurizio Damiani graduated in medicine from the University of Adelaide in 1996. After moving to Sydney he was accepted to the Australian Orthopaedic Association, Orthopaedic Training Programme. In 2005 he was admitted as a Fellow of the Royal Australasian College of Surgeons and is also a member of the Australian Orthopaedic Association, the Canadian Orthopaedic Association and the American Academy of Orthopaedic Surgeons.
Dr Damiani has completed 2 post-graduate fellowships. The first with the Canberra Orthopaedic Group involved specialist training of upper limb and of sports injuries. Following this he completed an international fellowship in hand, wrist, elbow and shoulder surgery at the Hand and Upper Limb Centre of the University Of Western Ontario, Canada.
Dr Damiani is an accredited supplier of diagnostic imaging, utilising a state-of-the-art Orthoscan Mini DI machine.
He is currently a consultant surgeon at
Canberra Private Hospital
Calvary John James Hospital
National Capital Private Hospital
He is involved as a Board Director of the Australian Orthopaedic Association, and is involved as a Clinical Lecturer in medical student training at the ANU Medical School.
Dr. Maurizio Damiani
30/8 Trevillian Quay,
Kingston, ACT 2604

(02) 6239-4000

(02) 6239-4077
Procedural Locations:
Canberra Private Hospital
Equinox Business Park,
Building 2, Level 3,
70 Kent Street, Deakin,
Australian Capital Territory 2600
Tel: +61 2 6173 3733
National Capital Private Hospital
Corner Gilmore Crescent
& Hospital Road, Garran,
Australian Capital Territory 2605
Tel: +61 2 6222 6666
Calvary John James Hospital
173 Strickland Crescent,
Deakin, Australian Capital
Territory 2600
Tel: +61 2 6281 8100